Soft Flow Dyeing Machine
In times past, winch machines were utilized to dye knitted fabrics with material to liquor ratio of 1:20. For every 1 Kg fabric processed, the soft flow dyeing machine requires only 4 L of water. Nowadays, a unique range of dyeing machines is obtainable with an M:L ratio even lower than 4. Whereas in soft flow dyeing machines, the circulation of fabric is done by using the liquor, thus some amount of liquor is required.
In the soft flow dyeing machine, water is utilized for maintaining the fabric in circulation. The conceptional distinction of this equipment from a conventional jet that functions with a hydraulic system is that the fabric rope is stowed circulating during the whole processing cycle from loading to unloading. Liquor or fabric continuously circulates for the standard drain and fill steps. The working principle behind the process is unique. There is a system for freshwater to enter the vessel through a heat exchanger to a special interchange zone. Simultaneously the diluted liquor is permitted to direct through a drain without any contact with the fabric.
There are various versions of both jet dyeing and soft flow dyeing machines. Few designs have two or more tubes mounted side by side, sharing a familiar dye liquor. The velocity of the rollers, the circumference of the tube, and the force of the jets can be adjusted to accommodate diverse fabrics, and decrease potential issues of fabric creasing or any stretching of the fabric, thereby making the machines universal in the range of fabrics that can be processed.
Diagram of soft flow dyeing machine:
Application Of Pump In Soft Flow Dyeing Machine
Dyeing machines may have more than one pump, which can be centrifugal or axial. One of them is the main circulation pump, usually located at the base of the kier, approaching the center to diminish frictional flow losses.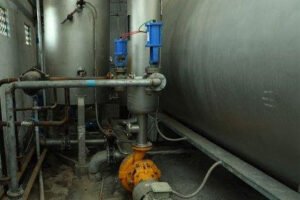 Whatever the type of pump is employed, the pressure-induced should be consistent for a moderate change in the volume flow. Leaks are observed from the columns of the spindles when long spindles together with high liquor ratios are used.
Centrifugal pumps are the secondary pumps used to pressurize the whole system by sucking the liquid from the bottom of the kier and feeding it to the main pump. Cavitation, which is an outcome of steam bubbles forming at high temperatures on the low-pressure side of the pump, may also be sidestepped if the whole system is pressurized even when dyeing at 100 °C.
Other than centrifugal pumps, many other pumps are used for injecting dye and chemicals in package dyeing machinery. The number of auxiliary pumps on a machine depends on the number of inlets for injecting various chemicals throughout dyeing.
Sujal Centrifugal Pump For Soft Flow Dying Machine
We are a leading manufacturer of excellent quality of pumps for Soft Flow Dyeing Machine in Ahmedabad, Gujarat, India.
We are exporting, distributing, and supplying excellent quality pumps for Soft Flow Dyeing Machine across the world.
Key features:
Foot Mounted

Available in Mechanical Seal Type/Gland Type

External Cooling Required (Water Cooling)

Back Pull-Out Construction

End Suction

As Per DIN 24256(ISO 2858)
Technical Specification:
| | |
| --- | --- |
| Type | End-Suction and Back-Pullout Type Centrifugal Pump |
| Capacity | up to 2200 m3/hr |
| Head | up to 150 Meter |
| Pressure | up to 15 kg/cm2 |
| | |
| --- | --- |
| Size | 25mm to 300mm |
| Speed | up to 3500 rpm |
| Temperature | up to 350° C |
| M.O.C. | CI, CS, SS304 / 316, SS 304 L/316L, Alloy 20, Hast alloy B or C,CD4MCU, etc… |
Here is the deal: 
If you are looking for centrifugal process pumps for various applications, then Sujal Engineering is the best choice.
Our centrifugal process pumps are the most advanced pumps specially designed for various industries. To know more about our product range and application, visit our website: www.sujalpumps.com
Read More