Sujal Engineering is the most trusted industrial pumps manufacturing brand in India. We strongly believe in manufacturing and exporting the world class quality of pumps to our valuable clients. From last many years we are manufacturing the best quality of chemical pumps which is specially designed sulphuric acid resistant pump with a wide range.
Under the guidance of experienced team, our chemical pumps are manufactured and it is the most suitable pump for your sulphuric acid applications. Chemical pumps which are used for sulphuric acid applications in which it transfers the chemical from container A to container B.
What is Sulphuric Acid?
Sulphuric acid is one of the important compounds manufactured by the chemical industry. It is an aggressive acid which is available in several concentrations. Sulphuric acid is used to make many different compounds as per requirement in every industry. As per the concentration, sulphuric has an SG ranging from 1-2. The chemical can be clear or cloudy and it is very stable and non-flammable.
How can you actually use this!
Chemical pumps can transfer many different chemicals but our pump is exclusively designed for the sulphuric acid transfer application in which it helps to transfer sulphuric acid from one point to another point. Considering the liquid properties in mind our pumps is designed for the transportation of sulphuric acid. It handles and moves the molten sulphur and sulphuric acid. The chemical pump is the best reliable solutions for special materials of constructions.
Why does this matter?
While running the chemical pump in plants it is our responsibility to manufacture a pump in such a way that it will not hazard to your workspace and team. In short, we need to take care of the safety of your workers while they use our pumps. In many plants, we have shown the exposure of the acid and it will create a problem at the workplace and to the workers. As we know that the sulphuric acid is extremely poisonous and will attack our respiratory system, our eyes, nervous system, and the circulatory system. That is the reason why our chemical pumps are trusted and most demanding product in the market because we assured you about the safety of your team. While manufacturing the pump we use the best quality of parts which will totally manufacture and maintained under the guidance of experienced team though you can trust our pumps and it matters a lot for your different applications uses.
Pumps which are used for Sulphuric Acid Applications:
There are a number of sulphuric acid applications where our pumps are used. Basically, there are two different type of chemical pumps which is used:
#1. Centrifugal Process Pump:
We manufactured prominent quality of centrifugal process pumps that includes end-suction and back-pullout type centrifugal pump for special sulphuric acid applications.
#2. Vertical Long Shaft Pump:
Vertical long shaft pump is designed for continuous operation. Closed Type and Semi-open Type Impeller designs are offered to handle a variety of liquids.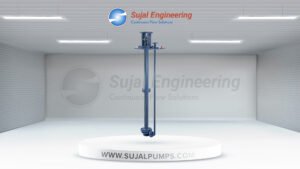 Salient Features Of Chemical Pumps:
Heavy duty process design
Low maintenance
High Efficiency
Long life
High head per stage
We highly recommended our Centrifugal Process Pumps and Vertical Long Shaft Pump for your sulphuric acid applications. Send us your applications details by clicking here. And, as always our expert team will contact you with more details and best price.