Water will be scarcer by 2030, with demand outpacing supply by 40%. Close to half the world's population will be living in water-stressed areas. Recycling all forms of water in our daily lives, from domestic and municipal to industrial process water, will become unavoidable.
The combination of aging infrastructure and a dynamic regulatory environment is constantly challenging the cost of treating water. The water quality has been getting affected by human activities themselves. The direct reuse of wastewater is dangerous for health and the environment, as they are contaminated. 
Hence waste water treatment plants are required to be operated. Pumps play a critical role in wastewater treatment. But, it can be challenging to adopt the right technologies and methods in the water treatment process. 
Sujal Engineering has built innovative solutions to overcome all challenges. From adjusting pH levels and disinfection to odor control, Sujal Pumps are an ideal match.
What Is Waste Water Treatment?
Wastewater is formed by several processes that include bathing, washing, using the toilet, and rainwater runoff. The water contains many contaminants including bacteria, chemicals, and other toxins.
Hence wastewater treatment is required to make the water safe for discharge back into the environment by reducing the contaminants.
Wastewater treatment is a process of removing contaminants from wastewater and converting the bilge water that can be discharged back safely into the environment. 
Once returned to the water cycle, effluent creates minimum impact on the environment or is reused for various purposes. The latter is called water reclamation.
What Types Of Pumps Are Used To Disinfect Water?
1- Centrifugal Pumps
Centrifugal pumps are probably the most widely used pump for pumping effluent. These pumps are found to be easily installed in pits and sumps and can effectively transport the suspended matter present in the pollutant.
Centrifugal pumps consist of a revolving wheel known as an impeller which rotates and transfers energy to the fluid. For pumps to not get clogged, the impellers are designed with fewer vanes for handling sewage with large-size solids. These types of pumps are called non-clog pumps.
Centrifugal pumps can be adjusted to suit a multitude of applications. It is capable of not only transporting water but also other materials from chemical slurries to oil and solvents.
2- Self Priming Mud Pump
Self-priming mud pumps are an ideal solution for transferring fluid in wastewater treatment plants. Long life and easy maintenance are one of the main reasons why it is widely selected to transfer viscous and abrasive fluids with ease.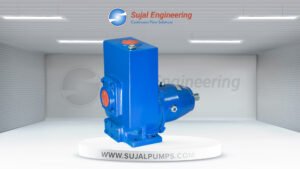 The non-clog and self-priming type pumps are designed to have the required liquid inside the cavity or pump body necessary to start the pumping process. It offers the possibility for increased operating efficiencies in process plants where pumps are used for a variety of operations. 
Self-priming mud pumps can also self-prime even if partially filled and if the suction hose is empty. The smart check valve inside the suction outlet avoids the siphoning effect when stopping and assures the automatic restart each time.
3 -Polypropylene
The unique Polypropylene pumps are truly multipurpose and have also been successful in pumping out, handling sewage or effluent from wastewater treatment plants.
Polypropylene pumps are designed in a single piece molded polypropylene volute casing with a semi-open impeller and casing cover to ensure a smooth running performance against corrosion according to the standards.
The pump also has a high alumina ceramic sleeve used to protect the shaft from any type of corrosion and abrasion. The mechanical seal present in the pump helps to prohibit leakage from the pumps.
4- Filter Press Pump
Filter Press pumps are one of the oldest and most trusted pumps used for wastewater treatment across a variety of industries and applications.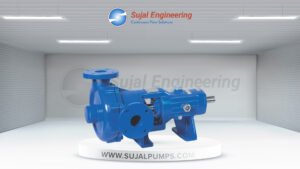 The filter press pumps are centrifugal type with a semi-open, non-clogging impeller pump with a single row deep groove heavy-duty ball bearing with oil lubrication. The pumps are positioned in the center of the plates allowing a proper distribution of flow, and better drainage of sludge within the chamber. 
Filter Press pumps use a high-pressure filtration method for separating the solids from liquids, removing impurities, and suspended solids from industrial wastewater.
5- Vertical Pump
Vertical  Pumps are specialized centrifugal pumps, widely used for separating fluids in wastewater treatment plants. The pumps are also referred to as deep well turbine pumps or line-shaft turbine pumps.
Vertical  pumps are a type of rotodynamic pump that use radial flow impellers in a vertical configuration. Vertical pumps can be multi-staged allowing maximum flexibility and modifications as per the needs.
Conclusion
At Sujal Engineering, we offer a wide range of pumps that will work efficiently to keep water treatment plants functioning at peak efficiency. 
Our skilled and knowledgeable technicians design pumps with a combination of mechanical and chemical characteristics to handle demanding applications to provide you with the most practical and cost-effective pumps.
To know more about our product and application, visit our website: www.sujalpumps.com
Read More