Zero-liquid discharge (ZLD) is a water treatment process that purifies and recycles all wastewater, resulting in zero discharge at the conclusion of the treatment cycle. It is an advanced wastewater treatment that consists of reverse osmosis, ultrafiltration, evaporation, and fractional electro deionization.
ZLD is a one-stop solution for dealing with hazardously polluted water. It purifies wastewater and converts it into desired, high-quality effluent that may be used in a variety of applications, including landscape irrigation and industrial operations.
Why Zero Liquid Discharge Is Important?
The primary reason for achieving zero liquid discharge is to prevent industrial water from damaging the environment. Numerous industrial activities require water, depleting it for the environment or other processes, or contaminating and releasing water that harms the surrounding ecosystem.
Another compelling reason to adopt zero liquid discharge is the possibility of recovering valuable materials from wastewater. Certain firms recycle their trash to ZLD because they can sell the solids or reuse them in their industrial processes.
Benefits of Zero Liquid Discharge for an Industrial Process
 

It reduces trash quantities which later results in lower waste management costs.

 

It recycles water on-site, which later results in minimizing the cost of water accusation and risk of it. Additionally, it will also result in fewer treatment needs, as opposed to treating to satisfy severe environmental discharge regulations.

 

It reduces the number of trucks used for off-site wastewater disposal, as well as their related greenhouse gas emissions and danger of neighborhood road incidents.

 

It enhances environmental performance and regulatory risk profile for future permits.

Certain operations may result in the recovery of important resources, such as ammonium sulfate fertilizer or sodium chloride salt used in ice melting.
Achieve Zero Liquid Discharge With Sujal Engineering Pumps
Each industry produces a distinct sort of wastewater, each with its own set of difficulties. Sujal Engineering has the knowledge, experience, and technology necessary to treat a range of wastewaters. Achieving Zero Liquid Discharge requires water purification, evaporation, and sludge dewatering, and Sujal Engineering manufactures a variety of pumps that fulfill all these requirements. For instance, centrifugal process pumps, chemical pumps, and polypropylene are some of such pumps that help achieve wastewater requirements.  Let us break down the pump's operation sequentially.
Centrifugal Pumps
Sujal Engineering manufactures the best range of Centrifugal Process Pumps for Zero Liquid Discharge. These pumps are relatively simple and easy to maintain. Our centrifugal process pump is the industry's most popular pump for operating and assisting in draining away fluids in wastewater treatment plants. This is used to change the direction of a liquid or to increase its pressure. Our centrifugal pump's high-quality impeller turns the liquid, and the pump's centrifugal force pushes the liquid out. The impeller is the rotating device that imparts energy to the fluid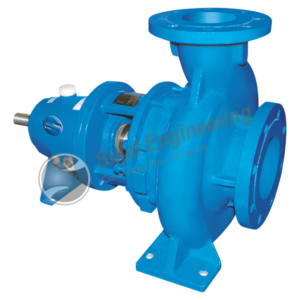 Numerous customers from the water treatment industry trust Sujal engineering pumps.
Salient features
  Water Treatment Industry   

  Heavy-duty process design

 

High Efficiency

  

Low maintenance

  

High productivity due to three bearing design
Technical Specification
| | |
| --- | --- |
| Type | End-Suction and Back-Pullout Type Centrifugal Pump |
| Capacity | up to 1100 m3/hr |
| Head | up to 150 Meter |
| Pressure | up to 15 kg/cm2 |
| Size | 25mm to 300mm |
| Speed | up to 3500 rpm |
| Temperature | up to 350° C |
| M.O.C. | CI, CS, SS304 / 316, SS 304 L/316L, Alloy 20, Hast alloy B or C,CD4MCU, etc… |
Chemical Pumps
Sujal Engineering is the leading manufacturer of Chemical Pumps. Our Chemical pumps are specially manufactured to assure the to handle aggressive and corrosive liquid.
Mainly chemicals pumps are used to transfer liquids from one container to another container. We have a large range of chemical pumps as per the chemical properties with different functional principles. We are well known for manufacturing a variety of chemical pumps for improving the operation and efficiency of water.
Salient Features
Technical Specification
| | |
| --- | --- |
| Type | Centrifugal Pump (with Semi-Open Impeller) |
| Capacity | up to 48 m3/hr |
| Head | up to 60 Meter |
| Pressure | up to 6 kg/cm2 |
| Size | 25 mm to 65 mm |
| Speed | up to 3500 rpm |
| Temperature | up to 135° C |
| M.O.C. | CI, CS, SS304 / 316, SS 304 L/316L, Alloy 20, Hast alloy B or C,CD4MCU, etc… |
Checkout Full Video of Installed Pumps in MEE Plant:
Polypropylene Pumps
Sujal Engineering is the largest manufacturer of Polypropylene Pumps.
Our polypropylene has been manufactured to perform very well in a wide variety of applications. It is created specifically to deal with the plant's corrosive chemicals. Acids, alkalis, solvents, hydrocarbons, effluent slurries, and a wide variety of other chemicals may be handled with a Polypropylene Pump.
The Polypropylene Pump is constructed from a single piece of molded polypropylene volute casing and features a semi-open impeller and casing cover for improved corrosion resistance. Additionally, it has a high-alumina ceramic sleeve that guards against corrosion and abrasion. The mechanical seal employed in the pump contributes to the pump's resistance to leakage, while the best-cast iron heavy-duty oil-lubricated bearing housing contributes to the pump's maximum strength.
Salient Features
Low maintenance due to minimum components.     

Leak-proof and also run dry without damage in rotating parts.

Compact design
Technical Specification
| | |
| --- | --- |
| Type | Centrifugal Polypropylene Pump |
| Capacity | up to 295 m3/hr |
| Head | up to 60 mtr |
| Pressure | up to 5 kg/cm2 |
| Size | 25 mm to 100 mm |
| Speed | up to 3500 rpm |
| Temperature | up to 70° C |
| M.O.C. | PP, GRP, PVDF, UHMWPE etc… |
Conclusion
Sujal Engineering is the manufactures of all the above pumps by an experienced individual who takes care of the qualitative components and other materials. These pumps are verified on key factors of quality before sending our clients. We are among the finest Pumps manufacturers in the business who offer, produce, and export top-quality industrial pumps. 
If you are seeking pumps or any other industrial pumps feel free to contact us. Our staff will contact you for the particular applications and needs.
Read More