Vertical pumps have evolved as one of the most popular pumps for numerous industrial applications. Why? The reason is simple; its space-saving design, high pumping capacity, effectiveness, and relatively lower maintenance cost.
These pumps are widely used to pump contaminated or clean liquids, fibrous slurries, or liquids containing large solids from the deep sumps.
What else makes it a highly preferred choice is that vertical pumps have superior qualities like corrosion resistance, reliability, and higher efficiency.
But is it an ideal choice for your industry? Let's find out!
In this blog, we will understand what vertical long shaft sump pumps are, and how they work with their benefits and applications.
What Are Vertical Long Shaft Sump Pumps?
Vertical long-shaft sump pumps are single-stage industrial pumps used for various applications like chemical plants, waste treatment plants, etc.
The pumps consist of a discharge head suspended into the liquid that needs to be pumped and a drive motor dry installed on the top area. Then there are other parts like pipe columns, vertical pump shafts, radial, channel impellers, and a suction bell.
At Sujal Engineering, we design vertical sump pumps with advanced capabilities to handle high-pressure and high-head applications efficiently. Additionally, our vertical pump covers a wide range of hydraulic conditions to meet every pumping requirement with optimum efficiency.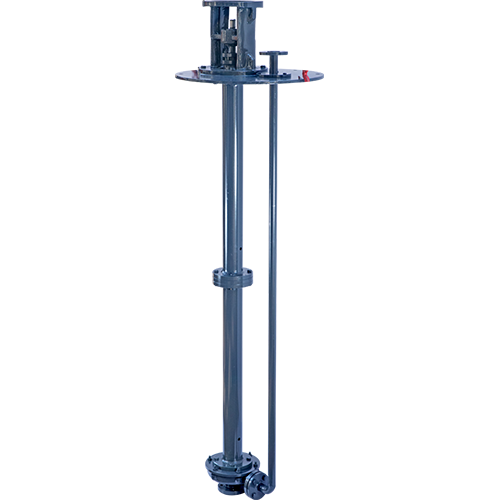 Vertical Pump Working Principle
A vertical long-shaft sump pump works when the liquid enters the pump through a suction bell. It moves the liquid into the first stage impeller, which raises the fluid's velocity to enter above the impeller.
At this stage, the high-velocity energy is converted into high-pressure energy, which directs the liquid toward the next impeller. This second impeller is located above the head. The process continues throughout the pump stage, and once the fluid leaves the final discharge head, it passes through the vertical column pipe.
The pump motor is connected to the impellers, and the spinning pump present inside is supported with a sleeve bearing mounted inside the pipe column. Lastly, the discharge head allows the liquid flow to change the direction towards the pipe.
Benefits Of Vertical Long Shaft Sump Pump
1. Higher temperature fluids can be handled:
High temperature fluids can damage pump seals; however, vertical pump seals stay outside of the liquid, which means they can not damage the seal.
In addition to this, high temperature liquids can pose the risk of cavitation, but with a vertical pump, this will not be the issue.
Vertical pumps are equipped with robust materials that can withstand high temperatures without compromising performance. This makes vertical sump pumps a viable option for handling high temperature fluids in industrial processes or heating systems.
2. Ideal for flammable liquids:
If other pumps are used for transferring flammable liquids it may lead to seal wear which can pose a risk of explosion. However, vertical shaft pumps offer an advantage in such situations by transferring flammable liquids without any seal wear and tear.
Vertical pumps can be installed above the liquid surface where the motor can remain outside the hazardous area. Thus vertical long shaft pumps are a safe choice for handling such fluids.
3. Space-saving design:
For installations where space is a concern, vertical pumps can be the right choice, as it takes less space and can be installed directly in the sump or tank.
Vertical long shaft pump has a compact design and is beneficial in applications with limited space while providing optimal pumping performance.
4. Low Maintenance:
Vertical pumps are easier to maintain as the pump motor can be installed outside the fluid, which makes it less prone to seal and motor failures. As a result, it minimizes wear and reduces the need for frequent maintenance, which will ultimately save costs and increase operational efficiency.
5. Longevity and chemical compatibility:
Vertical pumps are strongly constructed using materials that provide longevity and incredible chemical compatibility. They efficiently handle corrosive and abrasive fluids with optimal performance even in harsh operating environments.
6. Ideal for deep tanks, sump, and well emptying:
Vertical pumps have a long shaft design that allows the pump to provide superior performance for applications like deep tanks, sumps, or well emptying. The pump has capabilities to reach greater depths and is well suited for mining, wastewater management, and construction applications.
Vertical Long Shaft Sump Pump Applications
Here are some of the common applications of Vertical Long Shaft Pumps
Wastewater pumping
Lubricants, oils, fuels, and acid transfer
Water treatment plants
Sulphuric acid application
General water transfer, supply, and service
Chemical and petrochemical processing
Organic chemical processing
Slurries, solvents, waste processing
Seawater and raw water intake
Utility circulating water
Draining of wells, sumps, tanks, reservoirs, and many more industries and applications
To Conclude
Vertical long shaft pumps are helpful in many industrial applications for removing and transferring liquids from greater depths.
Additionally, if you are looking for a vertical long shaft sump pump for your application, we would be happy to help.
Sujal Engineering is a trusted industrial pump manufacturer and supplier in India. We can help you with the best vertical long shaft pump for your application.
Reach out to us to optimize your fluid handling operations with the best pumping solution.
Read More: