Did You Know? Overall there are 169 water services authorities are present in South Africa.
Not only this but Southern Africa also plays an important role in water resources management known as the Water Boards of South Africa by which 6 million consumers are linked in form of dams, bulk water supply infrastructure, retail infrastructures, and some wastewater systems.
Being the center of Water Boards in India, providing drinkable water in bulk, and moving wastewater to water service institutions within their respective service areas are their major responsibilities and to make these operations easy and efficient, the use of pumps takes place.
When it comes to liquid transfer systems or alternative industries such as
dewatering, sewage pumping, or removing industrial wastewater, pumps need to be placed above the liquid level which can allow air to inline – but mud-clogging, overheating, and pump failure are three major concerns that can be raised during these practices.
So to aid industries for these circumstances, self-priming mud pumps get operated which aid them with the precise bifurcation of air and mud by transferring the required substances to further procedures. Let's dive in quite more and move to the definition and working principle of self-priming mud pumps.
What are Self Priming Mud Pumps?

Self Priming Mud Pumps help in the circulation process of mud (or drilling fluid) by keeping the partial vacuum in the suction line. This process occurs with the combining approach of water and mud, by forcing the water to rise and the mud to sink or go down.
This process goes on while pulling the mud/drill fluid from the pit, where the part of the self-priming mud pump named the piston pushes the fluid back to the origin. The usefulness of self-priming mud pumps not only gets framed with fluid transferring but also with the removal of cuttings or debris that might be generated during the drilling process.
With the offering of this many benefits, self-priming mud pumps has become an essential part or conjunction with other pumps like centrifugal pumps that can complete the entire pumping system.
Sujal Engineering is an established pharmaceutical pump manufacturer in India that supplies complete pumping solutions to the pharma industry with a commitment to high levels of customer satisfaction.
Our pumps have been designed to address the most difficult pumping challenges faced by pharmaceutical industries with utmost reliability and safety.
Working Principle of Self-Priming Mud Pumps
The fluid end and the power end are the two main parts of Self-Priming Mud Pumps, the fluid end consists of valves, pistons (or plungers), and liners by which the actual pumping process takes place.
With the help of the power end, self-priming mud pumps carry the input power through components called a driveshaft, converting the entire process into a repetitive state of up-and-down or back-and-forth linear motion.
Since the fluid end stays constantly linked with the pumping material, modern designs offered by genuine self-priming mud pump manufacturers also help in the quick replacement of components as needed. Not only in work procedures but also factors like work life, efficiency, and maintenance get boosted with it.
Features of Self-Priming Mud Pumps
Compact design

Robust body

Better efficiency

Quick priming

Anti-corrosive steel shaft motor body

Automatic air release during priming

Dynamically balance rotation parts

Assure Minimum vibrations
Technical Specification of Self Priming Mud Pumps
| | |
| --- | --- |
| Type | Self Priming Mud Pump (with Mech. Seal fitted) |
| Capacity | up to 75 m3/hr |
| Head | up to 5 kg/cm2 |
| Pressure | 32 mm to 75 mm |
| Size | up to 25 mm |
| Speed | up to 2900 rpm |
| Temperature | up to 100° C |
| M.O.C. | CI, CS, SS 304 / 304 L, SS 316 /316L, Alloy 20, Hastelloy B or C,CD4MCU, etc… |
Applications of Self Priming Mud Pumps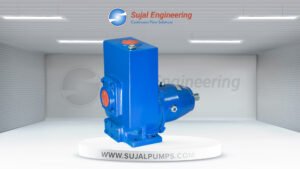 From steel mills, and power plants, to sewage treatment plants there are numerous applicants of Self Priming Mud Pumps in both industrial and commercial industries. Some of them include:
At Sujal Engineering we design quality chemical pumps that are capable of delivering consistent performance and also provide mechanical reliability.
Water

Fules

Gray Water

Raw sewage

Industrial water waste

Liquid transfer systems

Irrigation

Basement flood water pumps

Bailing out boats

Increasing water pressure

Sewage treatment
Why Sujal Engineering for Self Priming Mud Pumps?
Because we are proven! Not only because of the products but with satisfied smiles and work procedures driven from numerous industries with those products.
Sujal Engineering was founded in the year of 2009, with an infrastructure of more than 2,000 square feet with a team of more than 80 professionals, and the most advanced technologies that made us the leading pump manufacturers in India.
Our pump manufacturing procedures consist of improving, advancing, and modern designing factors edged with the highest specifications and certified alloys that enable us to deliver the most precise pumps to the industries within the given timelines.
While driving these higher values and results Sujal Engineering has also been accredited with ISO 9001:2015 certification and proven results of 100% success that enforce our entire team to provide high-quality and low-maintenance products.
Wrapping Up!
So we were on uses of Self Priming Mud Pumps in Southern Africa's industries – starting from their water industries ratio to the process of liquid transferring and the usage of self-priming pumps in drilling operations
We covered the definition of Self Priming Mud Pumps, their working principles, and their exceptional features which make them ideal for priming/water/sewage/ industries.
[Bonus Keynote: Being an ultimate name in pump industries, Sujal Engineering is also a leading self-priming pumps manufacturers in India, so if you want to advance your industry with the same, here is the quick link to get in touch by email at sujalpumps@gmail.com or visit our contact page.]
Read More:
Industrial Pumps For Pharmaceutical Industry – A Complete Guide
Centrifugal Pump For The Pharmaceutical Industry
Top Industrial Pumps for Paper & Pulp Industries
Industrial Pumps For Power Plants – A Complete Guide
Industrial Pumps For Chemical Plants – Transferring Aggressive Fluids